Traveler Health and Safety Policy (Post- Pandemic)
Enhanced Cleaning Policy:
All USA Guided Tours vehicles are cleaned with EPA-registered multi-surface cleaner & disinfectant as recommended by the CDC – between every tour
Additional Measures:
Face masks are optional for tour guides and travelers
Hand sanitizers available on buses
Contactless check-in process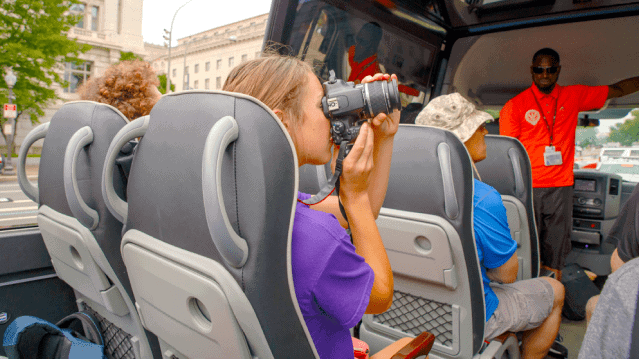 CDC Guidelines & Additional Information:
Free Cancellation up to 24 Hours in Advance:
If you cancel your booking 24 hours in advance of your tour departure time – a full refund will be issued
Free Cancellation up to 1 Hour in Advance With Tour Booking Insurance:
If you purchase Tour Booking Insurance at $5.99 per booking, booking cancellations may be made up to 1 hour in advance of your tour departure time for a full refund
Terms and Conditions Policy
1. Introduction
These Website Standard Terms and Conditions written on this webpage shall manage your use of this website. These Terms will be applied fully and affect your use of this Website. By using this Website, you agreed to accept all terms and conditions written here. You must not use this Website if you disagree with any of these Website Standard Terms and Conditions.
2. Intellectual Property Rights
Other than the content you own, under these Terms, USA Guided Tours LLC and/or its licensors own all the intellectual property rights and materials contained in this Website. You are granted a limited license only for purposes of viewing the material contained on this Website.
Privacy Policy
This privacy policy has been compiled to better serve those who are concerned with how their 'Personally Identifiable Information' (PII) is being used online. PII is data that can be used to identify, contact, or locate a single person, or to identify an individual in context. Please read our privacy policy carefully to get a clear understanding of how we collect, use, protect, or otherwise handle your Personally Identifiable Information in accordance with our website. This Policy does not apply to information collected by any third party, including through any external website that may link to or be accessible from the site. Please check directly with each such third party to avoid unfair surprises and misunderstandings. Your use of this site constitutes your acceptance of this Privacy Policy. If you do not agree with this Privacy Policy, you may not use our site.